I decided to have a bash at the challenge over on Cas(e) this sketch, I love the stamp set 'High Tide' so started designing with this in mind. While playing with the stamp set I noticed my Sale-a-bration free stamp set (Any Occasion) sitting on my desk waiting to be used for the first time. I thought how lovely a lighthouse with bunting would look, obviously you have to ignore the fact there is no where to attach it too! I tried to give it an old fashioned look. Hope you like.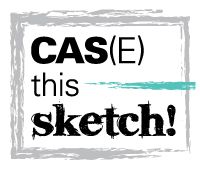 My card inspired by the sketch
If you would like any of the items used for this card please shop 24/7 in my shop above. Also if you spend £45 not including P&P you get to choose a free item from the Sale-A-Bration catalogue. This offer ends on March 31st 2017.